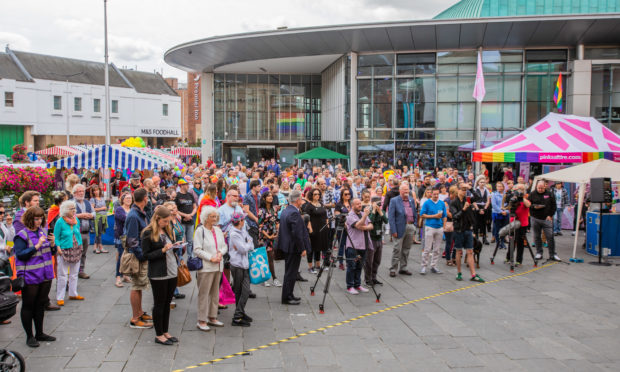 Perthshire Pride organisers have said they won't be silenced after they were heckled at last weekend's farmers' market in Perth.
Members of the group said they were targeted by a number of yobs who made abusive comments to volunteers operating a stall in the High Street.
This year's Perthshire Pride is due to take place on Saturday, when it is expected to dwarf the inaugural event.
Co-chairwoman Claire McKenzie said anyone planning to protest will be "wasting their time".
She said: "We're used to it. We knew that when we set up Perthshire Pride, we would have to expect it. Not everyone likes it as there are still some closed-minded people in Perth.
"We had about seven or eight people make off-the-cuff remarks to the people at our stall on Saturday.
"It was things like 'I don't like this' or 'this is disgusting' or 'you're letting the farmers' market down'. The market allows local groups to have stalls so why shouldn't we be there?
"The stall was lit up with rainbows, so we thought folk were joking when they were asking why we were there."
Saturday's event is set to feature a parade with around 1,500 people.
Claire said the organisers had upped the level of security to ensure the safety of everyone taking part.
"Pride is going to be much bigger so we've brought in extra security just in case," she said.
"We don't expect there to be any trouble. Anyone who comes along to oppose us will be outnumbered – they'll be wasting their time.
"We feel strongly about what we do, and we'll continue to do it unfazed."
She said everything was in place for the party of the year, and she is expecting a record turnout.
The parade will leave from the South Inch car park at noon and head up Tay Street to the Concert Hall, where the rest of the day's entertainment will start at 1pm.
"We're expecting around 1,500 people in the parade," said Claire.
"Everyone is welcome to join in and can arrive on the day, but we'd ask that bigger groups contact us first to let us know."