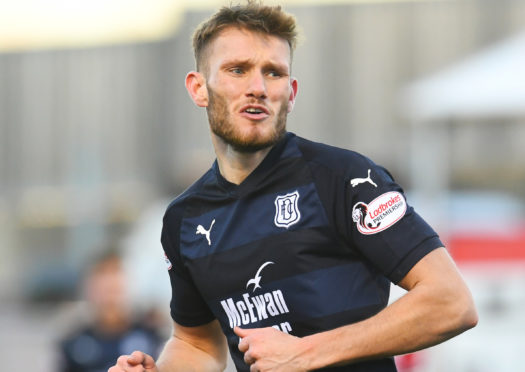 Dundee's Andy Dales insists plastic isn't fantastic but he is equally adamant there will be no excuses from him or his team-mates if they are not pitch perfect at Livingston today.
There was yet more froth and fury engulfing the game in this country this week after the players' union in Scotland called for all artificial surfaces to be scrapped in the Premiership following a survey of their members.
The PFA did not ask for responses from the players at the three top-flight clubs in the division who do not play on grass – Hamilton, Kilmarnock and Livi.
However, the feedback from the rest was unanimous with every player putting their name to a petition calling for a ban on artificial surfaces.
Dales, who is on loan from English outfit Scunthorpe United admitted he was surprised the plastic pitches are allowed in the Premiership but he insists that the Dundee players' sole focus is on securing three points at the Tony Macaroni Arena.
The 24-year-old winger said: "There are no artificial pitches in England's League One now.
"I knew there were some up here in this league. I don't agree with it.
"It puts teams at a disadvantage and I just don't think it is right in my opinion. I never trained on artificial pitches before I came up here.
"I don't agree with these pitches at this level.
"Everybody at this level should have the same standard of pitch. When you get down the levels, then they are good for bringing money in but for the Scottish Premiership it should be the same surface.
"There are no excuses because when it comes to the game both teams need to play on it.
"One team is more used to it than the other but on the day there can be no excuses."
The pitch at Livingston certainly cannot be allowed to prove a distraction for the Dark Blues who are currently sitting second bottom of the league, three points ahead of St Mirren and the same number behind Hamilton.
However, with the likes of fellow new boy, striker Andrew Nelson, hitting his stride, Dales is confident Dundee can secure their top-flight safety this season.
He added: "We have quite a few wingers and strikers.
"Andrew scored two in his last game. Hopefully the boys will keep providing him with ammunition and he will keep banging the goals in but anyone can chip in.
"We've had loads of chances but we need to start putting more in the net although some of the keepers have made really good saves.
"With the squad and the quality of the additions then we know we have a good squad.
"The quality is definitely there.
"I can see us moving away from the bottom end of the league."
Dales admitted it has been an enjoyable experience for him since his move to Dens last month following a chat with Scunthorpe boss Stuart McCall.
He made his first start in the win over Hearts at Tynecastle and has played every game since for Jim McIntyre's side.
Dales added: "I had a little chat with him (McCall). He told me what to expect and said that it would be a good opportunity for me.
"I had been playing at Scunthorpe so it was not as if I hadn't been involved.
"He told me to go up for the season and to get as many games as I can.
"I have come up here and enjoyed it and I want to be involved as much as I can.
"I have put 110 per cent in and thankfully I got that opportunity quite early.
"I started my second game against Hearts and I have managed to keep my place since.
"It was great to get the win and it was a good atmosphere that night against Hearts.
"You want to be playing in these big games, in front of 40 or 50,000 fans at Rangers and Celtic.
"You get that opportunity at Sunderland maybe in front of 30,000 but playing at big stadiums like Ibrox will be great."