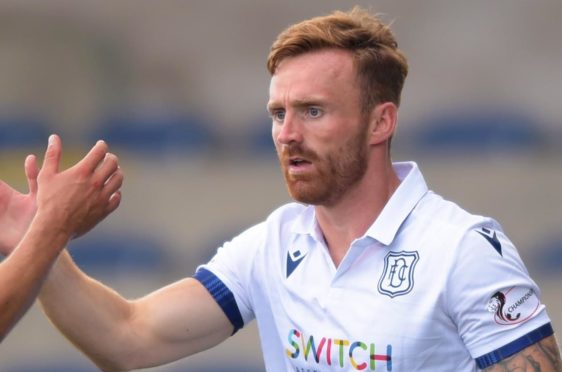 You can expect to see your team play well in the first game of a new season and you can expect to see your team win.
But on the second weekend of July you can't really expect to see your team score as slick a goal as Dundee's third at Stark's Park.
A superb flowing move, culminating in Shaun Byrne's exquisite lay-off for Craig Curran to finish made a mockery of the theory that it takes a few competitive matches for a side to find their rhythm.
If that goal is a reliable indicator, the Dark Blues have found theirs on day one.
Curran said: "For Shaun Byrne to see the pass shows his quality. He's a top player. I think the fans are going to love him. He's going to be a really good signing.
"And I was delighted to score obviously.
"I was screaming for it – you know what forwards are like – but it was an unbelievable move before that."
By the time Curran came on Dundee were 2-0 up, thanks to Andrew Nelson's first half double – a striker's finish when he took advantage of unconvincing defending from centre-back Fernandy Mendy and a penalty after the Frenchman got penalised for a high boot.
The Dens Park side had also hit the post through Paul McGowan in the opening 45.
"The lads played some fantastic stuff at times," said Curran.
"We've got really good characters in the changing room. There are some real top players here. And the young players coming through are top players in the making.
"It's always great to get off to a good start.
"When you get relegated you either sulk or decide that sort of disappointment isn't happening again.
"Everyone's come back with a desire to put things right and I think you saw that today. There's a real hunger about it.
"We lost our way as players and it's good to see that change."
Manager James McPake really couldn't have asked for much more.
He said: "People asked through the week, does it (the Betfred Cup) matter? Of course it matters. It's competitive football.
"We got the win, we did a lot of things right and we're delighted to get off to a good start."
His two strikers getting off the mark (one of them with his long-awaited first for the club) were an obvious highlight.
"He was the Andrew Nelson that I know," said McPake.
"From the last week of the season when I took the team through to pre-season he's been great to work with.
"He's a gem of a boy who wants to get better. He gets disappointed when he doesn't feel he's reaching the standards that he should be and I love that about him.
"There's a lot more to come. We know that. I'd have loved him to get his hat-trick but he was unselfish when he squared a chance to Paul McGowan. But that shows you his awareness as well. He's more than just a goalscorer.
"Craigy is great about the place. He's got a lot to offer. Whether he starts or he comes off the bench, his attitude is always the same.
"He gets after people and he's got a lot of quality as well. He deserved a goal in pre-season but it didn't come. I'm delighted for him too."
Rovers shouldn't be overly concerned about the result or general performance. Mendy was shaky in the first half but grew into the game and there was a 15-minute spell after the re-start that could well have seen them get back to 2-1 if a Joao Victoria shot had sneaked inside the post.
Manager John McGlynn had one man in his sights – the referee who sent him off after the opening goal.
"I thought the referee (Lloyd Wilson) was an absolute disgrace," he said. "The first goal is important in every single football match and he has given them a goal of a start. Fernandy has been pushed in the back, which results in the first goal. I was raging at him.
"The assistant has a great view of it and can see the push.
"We've been denied a stonewall penalty in the second half when Ross Matthews was pushed in the box.
"Fernandy probably shouldn't have his foot up so high for the penalty but I don't think it was particularly dangerous play. That is two soft goals and those are the key points in the game.
"If those three officials had officiated all the Dundee games last season then they would still be in the Premiership – because there's no way we were winning that game. It was very painful. The officials didn't give our boys a chance."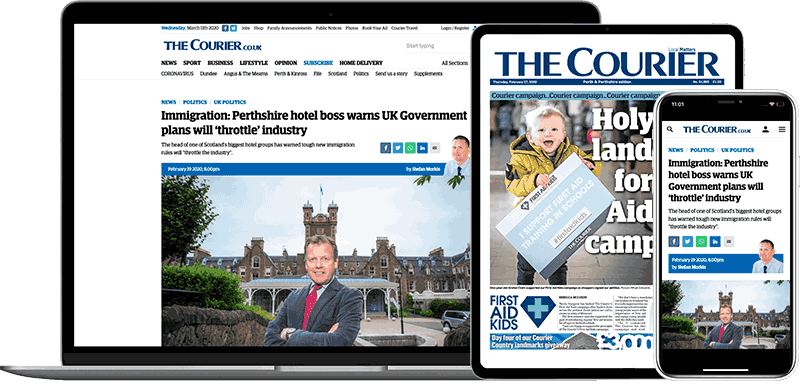 Help support quality local journalism … become a digital subscriber to The Courier
For as little as £5.99 a month you can access all of our content, including Premium articles.
Subscribe