What if Dundee United had made it to the 1984 European Cup Final for a Battle of Britain clash against Liverpool? A new book considers just that, discovers Michael Alexander.
It is regarded as one of the greatest hard-luck tales in Scottish football history.
After winning 2-0 in the first leg of the 1984 European Cup semi-final against AS Roma at Tannadice, Jim McLean's all conquering Dundee United lost the second leg 3-0 in Rome's Stadio Olimpico – shattering the Terrors' dream of a place in the European Cup Final.
No sooner had the final whistle sounded in what had been an intimidating match played in a hostile atmosphere, Roma fans then invaded the pitch and United manager McLean found himself being verbally and physically abused by a threatening mob of Italian players including Franco Tancredi, the Roma goalkeeper, and Agostino Di Bartolomei, their captain and playmaker.
Off the pitch, the powder keg game is remembered for many things including the libellous accusations from the Italians that the United players were on drugs, and the confirmation some years later that French match official Michel Vautrot had been bribed £50,000 by AS Roma ahead of the match.
In the end, justice was served when Liverpool went on to beat Roma 4-2 on penalties in the final, held at the Italian club's own ground.
But what if things had turned out differently? What if the Scottish champions had made it through to play for the ultimate prize against the Anfield men in a Battle of Britain?
It's a hypothetical situation explored by football fan turned author Simon Turner in his first ever book If Only: An Alternative History of the Beautiful Game which boldly turns football history on its head by exploring how games can hinge on what appears, at first glance, to be infinitesimally small events.
The long suffering Walsall FC supporter, who works as an accountant in Birmingham, has imagined a world where Scotland win the first-ever World Cup in 1930, Derby County are crowned champions of Europe in 1973 against Ajax and 1966 isn't the only year that England win anything.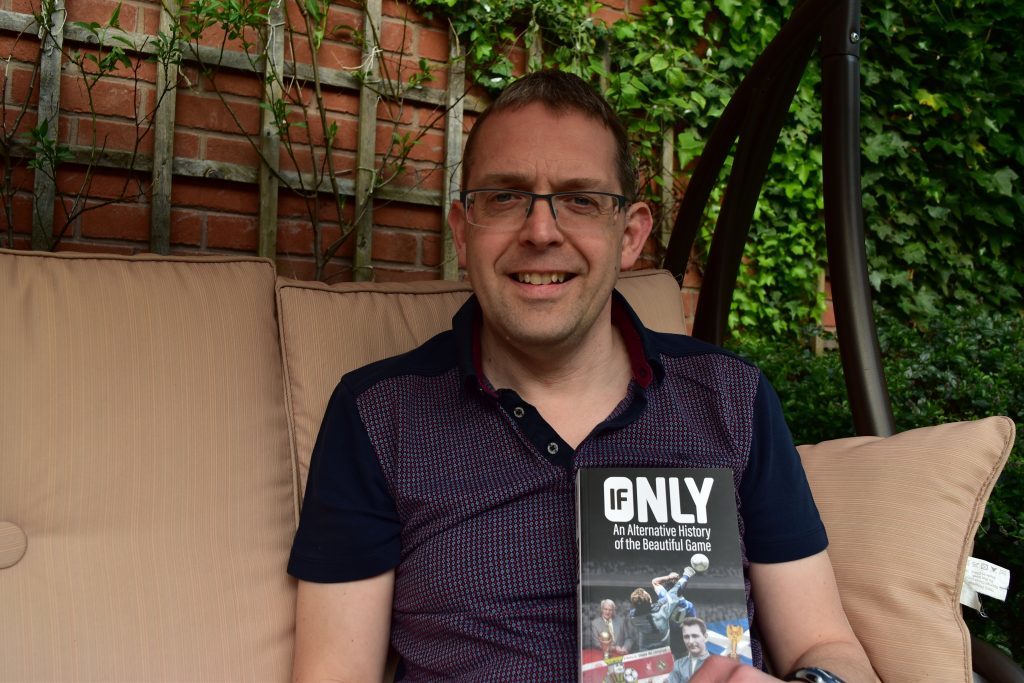 "Unless you support Manchester United or Chelsea or Celtic or one of those sort of teams, I think most football fans spend most of their lives going 'if only'," says Simon, 47, speaking to The Courier from Lichfield, Staffordshire, where he lives with his wife Val and two teenage children.
"In terms of what gave me the idea for the book, I was reading a biography on Brian Clough. I knew when he was at Derby he'd won the league title.
"But I didn't realise – because I was only a small kid at the time – that they'd got to the finals of the European Cup.
"When I read that I wondered who they'd have met in the final if they'd got there?
"I went away and looked it up and discovered it was Johan Cruijff's Ajax. What a great match that would have been! Brian Clough's Derby v John Cruiff's Ajax!
"That was the spark that gave me the idea. There must have been lots of other matches that almost happened and didn't. I went away, did some research, and came up with six."
Simon opens the book with a spotlight on the first ever World Cup in 1930. Scotland had a good team. The original 'Wembley Wizards' famously beat England  5-1 at Wembley in 1928, and Simon reckons they'd have done "pretty well" at the World Cup – if they'd taken up the invitation.
He examines how England could have done the World Cup double in the 1960s and could have won the 1968 European Championships – if it hadn't been for cruel bounces, the width of a crossbar or dubious refereeing decisions.
He also looks at what might have happened if England hadn't lost on penalties in the semi-final of the 1990 World Cup, and spotlights Leeds United narrowly missing out on the Champions League final against Bayern Munich in 2001.
Dundee United's European adventures throughout the 1980s were something he came across during his research, and he found the story of Jim McLean's successes "fascinating".
"I was a teenager in the 80s and I vaguely remember Dundee United getting a decent run," added Simon, who has never been to Tannadice but visited the Dundee and St Andrews area with his family on holiday three years ago.
"The more I read about Dundee United the more fascinated I became, because I didn't really know anything about the history of Dundee United and how Jim McLean built that team up from nothing."
Simon blends factual history with a fictional description of how matches might have turned out.
So who would have emerged victorious of Dundee United had met Liverpool in the final?
Simon gives that honour to Liverpool. But as Graeme Souness lifts the European Cup, as he did in real life, the fictional chapter concludes that the night really belonged to Scotland's golden generation – with "mutual respect" given to Dundee United.
*If Only: An Alternative History of the Beautiful Game by Simon Turner is published by Pitch Publishing Ltd, RRP £9.99.