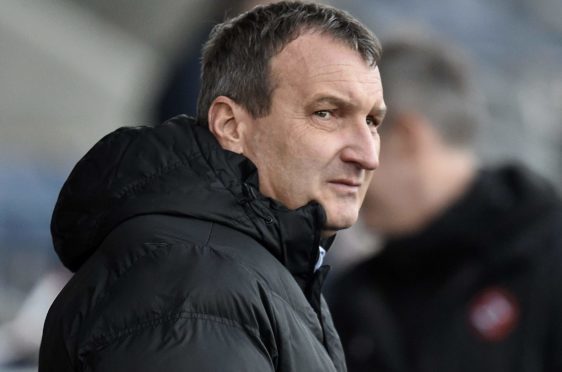 Dundee United boss Csaba Laszlo sees Idris Kadded as a first-team player despite the young Frenchman joining the club as an amateur.
The 19-year-old forward's signing until the end of the season was confirmed on Saturday morning and, perhaps surprisingly, he was thrown on as substitute that same afternoon in the 2-0 win over Alloa in the William Hill Scottish Cup.
He then came within an inch or two of making a spectacular impact when he smacked a left-foot shot off the Wasps' bar late in the game.
It was certainly a promising start for Kadded and it seems the United fans will be seeing plenty of him from now on despite his amateur status.
Laszlo said: "Idris Kadded is the boy from nowhere.
"I really hope this works out for everyone because he has an amateur contract.
"The boy is a good football player.
"He is the kind of player you have to convince to come here because, at just 19 years of age, to come over from France is a big thing.
"I like players who have an attitude and he wants to change his life.
"Maybe he could have stayed in French football to play in the third division somewhere but he decided to come here.
"He is working very hard and he has a good left foot," added the Tannadice boss.
"He is strong with the ball and has a good shot.
"So I hope this is one that works out.
"He is one for the future but, definitely, I can use him in the first team now.
"If, at 19, a player is good enough for the first team then he will play.
"I told him that if he signs a contract then it's for the future but he will train with the first team and if in training he can convince me then I will bring him into the game.
"That happened quickly because I brought him into the match against Alloa and he convinced me he is OK."
United have also agreed to sign Kadded's fellow Frenchman Logan Martin (20), although there are still some loose ends to tie up.
Laszlo explained: "The paperwork was not finished so he was not in the squad on Saturday.
"He also has the talent and he played for Benfica and Genoa.
"Indeed, he has played in the second team in Genoa so he has had a good football education.
"He plays more as a number 10 and he is a strong guy.
"I hope he can make his way here at Dundee United."