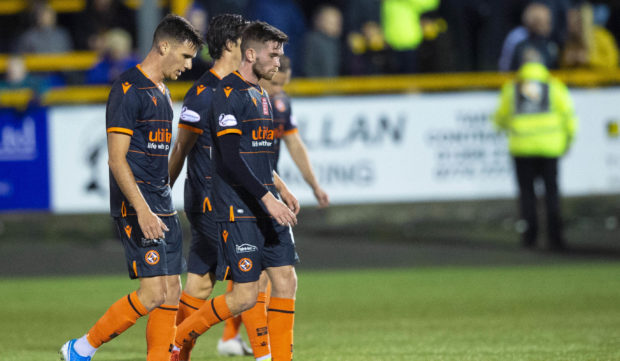 Dundee United boss Robbie Neilson criticised his players for not wanting to do the "dirty work" after they lost 1-0 to Alloa.
This match was supposed to be about the Tangerines winning again to pile pressure on their rivals at the top end of the Championship.
However, they blew it big style at a venue that has haunted them all too often since their relegation and were second best to the team that started the night bottom of the division.
United were far too soft in the centre of the park – it wasn't an accident that hardman midfielder Calum Butcher was missing through injury – and vulnerable in the defensive areas.
It wasn't a surprise when Kevin O'Hara tapped the Wasps into the lead on 18 minutes and also not a shock that they held on.
Neilson said: "My biggest frustration is that you can talk about shape and tactics in a game but you have to do the dirty work as well.
"You must make tackles and be aggressive. We didn't do that.
"I thought we didn't compete the way we should have done, especially in the central areas.
"I thought there were periods of the game when we had a lot of the play and were getting it wide and delivering balls into the box but you have to win the physical battles.
"I think we did miss Calum but we have good players who should step up.
"If you are going in there as Dundee United you have to win your 50-50 balls, headers, second balls and be aggressive.
"We were 1-0 down and there were no bookings in the game for us. That tells a story.
"We tried to open them up but the quality just wasn't there tonight.
"If you lose a goal early in the game it gives them an opportunity to sit deep and try to kill the game. They did that and tried to hit us on the counter-attack, which I think they did pretty well."
Wasps boss Peter Grant had his players primed to cut the supply to United striker Lawrence Shankland, saying: "Lawrence puts me in mind of when I played against Ally McCoist.
"If you give him a sniff the ball ends ups in the back of the net somehow so our concentration levels had to be spot on."