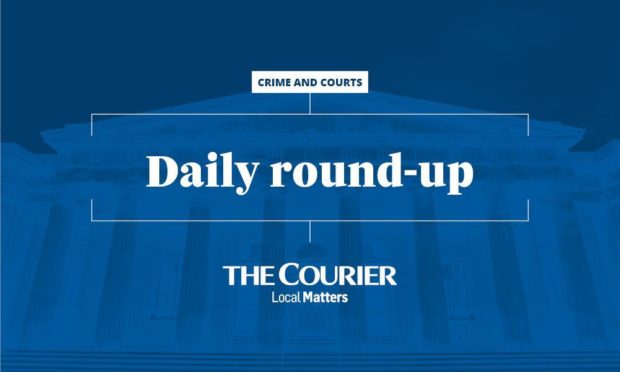 The Tuesday round-up.
Covid cougher
A Kirkcaldy woman has admitted deliberately coughing in police officers' faces after telling them she had Covid-19.
Janice Docherty had been taken to the Fife town's station on September 26 last year.
At the St Brycedale Road station and while en route to it, Docherty, of Whytehouse Mansions, told PCs Dawn Philip and Ryan Shannon that she had coronavirus.
The 45-year-old admitted to thereafter deliberately coughing in both constable's faces.
She pled guilty to, on the same date, acting in a threatening or abusive manner on Kirkcaldy High Street by shouting, swearing, uttering offensive remarks and threats of violence.
Sheriff Craig McSherry deferred sentence until January 12 for reports.
Armed robbers jailed
Three members of an armed robbery gang have been jailed for a total of 32 years.
Dean King, Anthony Wheeldon and Connor Willis were part of the gang that targeted Walker the Jeweller in Dundee's Union Street in 2019.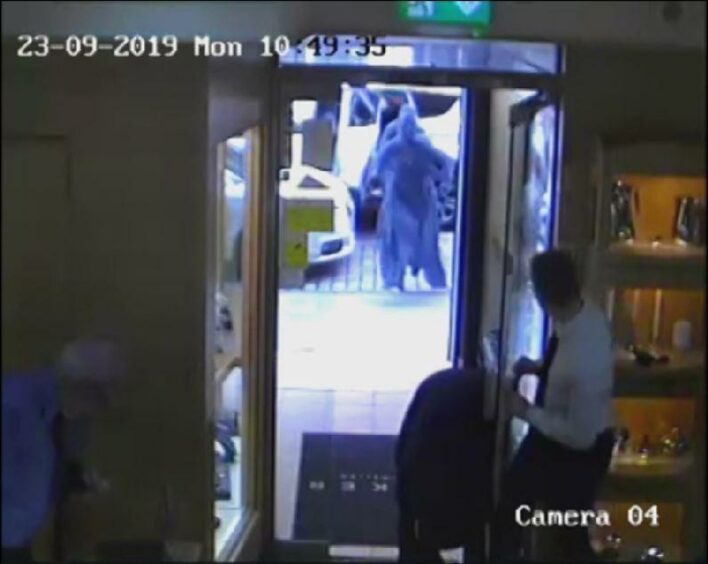 CCTV shows King entering the shop and holding open the door as he pretended to tie his shoelace.
The rest of the gang, wearing burka-style robes and masks burst in from the street, wielding an axe, hammer and mallet.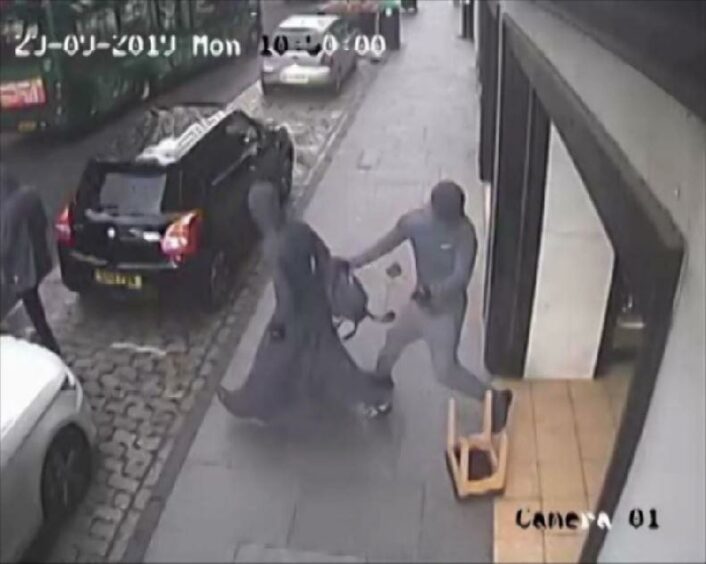 The footage shows a customer desperately fight them off before an anti-theft smoke device is activated.
Their raid netted only two Rolex watches and the group were caught after leaving DNA evidence in their stolen getaway car.
Read the full story here and see the CCTV footage here.
Prison request from accused
A Fife man has been jailed after police who stopped and searched him found a lock-knife in his pocket.
Steven Haldane admitted carrying the weapon on Bayview Crescent in Methil on June 18.
The 34-year-old, of the town's Whyterose Terrace, appeared at Kirkcaldy Sheriff Court.
Fiscal Depute Claire Bremner said police spotted Haldane and knew he was wanted on an apprehension warrant.
"The accused was searched and a small lock knife was recovered from his right trouser pocket.
"The knife is described as being half an inch long and can be locked into place."
Solicitor David Bell said drug user Haldane was not asking for anything other than custody from Sheriff Craig McSherry in order to seek some "respite" from his current lifestyle.
Mr Bell said: "He says he had the knife for self protection purposes.
"It's certainly not one of the more significant items the court has seen in terms of its capabilities."
The sheriff jailed Haldane for a year.
Teacher abused girl
Former school teacher Robert Jennings, who sexually abused a 10-year-old pupil, has been ordered to pay her compensation. The 66-year-old from Aberdour was convicted of misconduct towards the girl on an occasion in the late 1980s.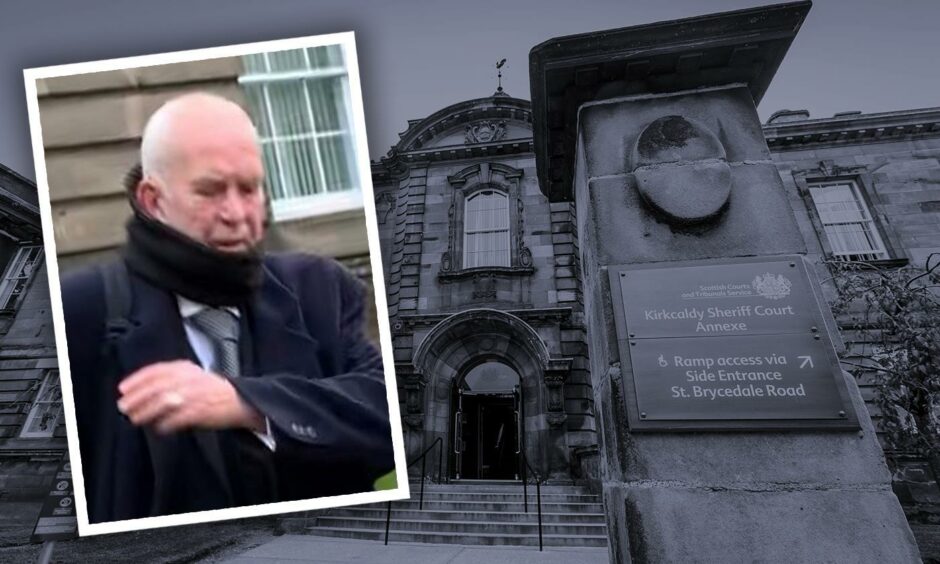 Sex attack deferral
Sentence has been further deferred on a man convicted of carrying out a sex attack in Arbroath.
Danny Ross was found guilty of indecently touching a woman over her clothing at an address in the town on June 30 2019.
The 30-year-old, of Moonlight Gardens, also rubbed his privates against the woman's body as well as kissing her on the body.
At Forfar Sheriff Court, sentence was further deferred on Ross until December for the availability of Sheriff Richard MacFarlane who presided over the trial.
A90 crash charge
An alleged dangerous driver will face trial next spring, accused of crashing a lorry into a bridge.
Joeli Nakavulevu is said to have crashed his lorry into an A90 flyover between Perth and Dundee on October 31, 2019.
Nakavulevu, of Railton Crescent, Arbroath, is accused of driving the HGV on the dual carriageway, when he failed to take heed of the vehicle's height and hit the bridge between Glencarse and St Madoes.
The 32-year-old is said to have caused damage to the bridge, his vehicle and to a passing fuel tanker.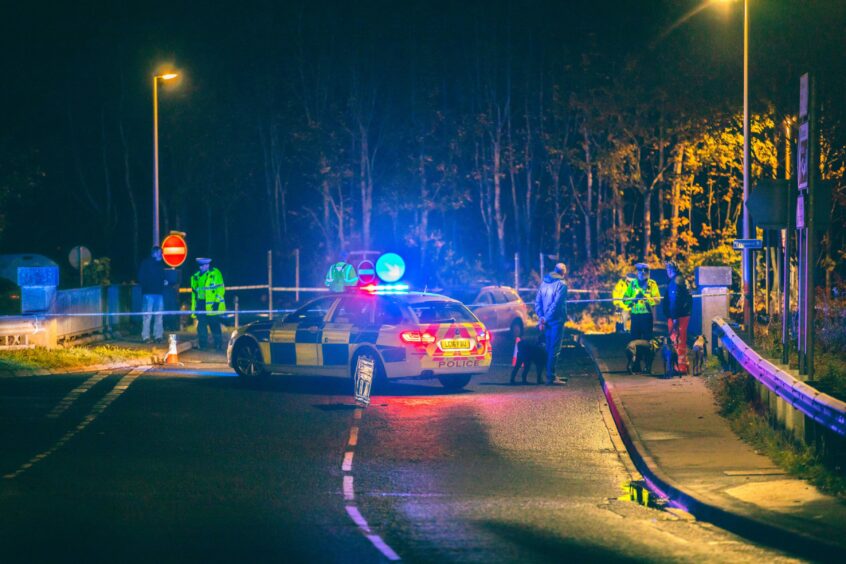 Abuse trial at Perth
A witness told Pert Sheriff Court about the night her ex-partner allegedly entered her home, slapped her, chased her and tried to run her over with his car.
Alexander Drummond, 36, is standing trial at Perth Sheriff Court.
He denies attacking Danielle Kelly, 29, at an address on Carse Avenue, Alloa on the night of October 9, 2020.
Drummond had been in a relationship with the woman that had ended two years previously.
The cleaner told the court how Drummond came into her home uninvited, demanded to take her phone and pushed her against a door.
She described running out of the house to get help from a friend.
Drummond was said to have chased her, punched her in the face, got into his car and drove it in her direction.
Ms Kelly told the court she had to jump into a bush beside her house to move out of the way of Drummond's advancing car.
She told the trial: "I saw a change in his face – he was dangerous."
She said he was driving "about 30 mph" and asked what would have happened if she had not jumped aside, she responded: "The car would have hit me."
Drummond, currently at HMP Low Moss, was described as acting like "an animal" by the witness.
His defence agent Brian Allison challenged her on key details.
"There was no holding you against the door; I'm suggesting it didn't happen," he said.
"Yes, it did happen," replied the witness
The trial, before Sheriff Euan Duthie, continues.
In case you missed it…
Monday round-up — Paying back £23k at £2.50 per month
Friday round-up – Arwen proves a trial in Dundee
Thursday round-up — Scratched Mustang and hosed
Wednesday round-up — Confused and on coke
The full caseload of the Dundee Crime and Courts Team can be found here.