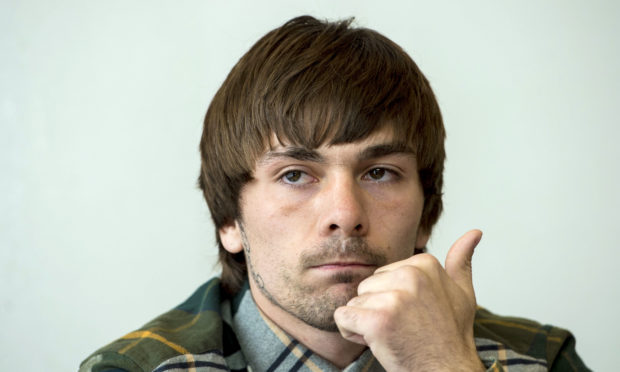 Boxer Mike Towell's trainer allegedly considered withdrawing him from his final fight due to health concerns, an inquiry into his death has heard.
Chloe Ross, Towell's girlfriend and mother to his four-year-old boy, told the Fatal Accident Inquiry (FAI) her mother had a conversation with one of Mike's trainers, Jamie Coyle, in the weeks before the September 29 bout.
The 26-year-old said: "He (trainer Jamie Coyle) said 'I'm a bit worried about Michael's headaches. I am thinking about pulling him out of the fight.'
"This was a couple of weeks before."
She said she was unsure whether the conversation took place before or after Towell had visited A&E at Ninewells Hospital complaining of a severe headache on September 11.
Towell died in hospital after being removed from the ring at the end of a televised fifth round loss to Welshman Dale Evans in Glasgow on September 29 2016.
Text messages between Towell and close friend Ross Geddes were also read out at the inquiry at Glasgow Sheriff Court.
They revealed the boxer himself was worried about his headaches and hoped for a brain scan at a GP appointment the day after his September visit to A&E.
Ms Ross said she was also concerned about the pains as Towell was reportedly refusing to spar for fear of the pain returning.
She said: "You couldn't go into a fight and not spar.
"I don't know much about boxing but I know you need to spar.
"He said his trainers were keeping an eye on it. He said he was starting to feel better.
"I accepted they were migraines."
Earlier, the inquiry heard Mr Towell had suffered two seizures in 2013 and had been advised to stop boxing and driving, as well as being signed off work.
However, he had brushed off the episodes and refuted a suggested diagnosis of epilepsy, as well as declining further tests after an MRI scan proved inconclusive.
The inquiry also heard Towell hid his history of seizures from doctors after another seizure in May 2016 — just four months before the fight.
Mike Towell hid seizures from doctors months before tragic death after bout
Mike Towell advised by doctors to stop boxing three years before tragic death
Questioned by solicitor Mark Fitzpatrick on behalf of NHS Tayside on her recollection of the discussion with doctors, Mr Towell's mother, Tracey Towell, said she was present but said: "I don't remember that conversation."
She had previously said during the inquiry she had "got him into trouble" for lying to doctors after he said he did not have a driving licence.
Mrs Towell was also questioned by Mr Fitzpatrick about her account of the visit to A&E on September 11, a few weeks before his death.
He had been taken to the hospital by a friend after a sparring session in which he could only last three rounds at his training centre at 1314 Boxing Club in Stirling.
Mrs Towell said her son had a severe headache and was in "agony" and "clearly in distress" while waiting to be seen by doctors.
She said he had a jumper wrapped round his head while sitting on the ground of the department's waiting room.
She added he was "begging" medics for a brain scan but was given co-codamol and advised to see his GP the following day, where he was prescribed aspirin for a suspected migraine.
Mr Fitzpatrick put it to Mrs Towell that she was not qualified to know whether someone required a brain scan.
Becoming visibly frustrated, Mrs Towell accepted she did not but declared: "If you had fallen over on the pavement outside and split your head open, you would be given a scan but you come in after three rounds boxing with a headache and you don't?
"I never took him out my sight. He was so bad.
"He was begging for a scan. He said 'this isn't normal – there's something wrong with my head.'
"I feel it was important that he should have gotten a scan.
"It may well have saved his life and it would have stopped him from boxing."
He "refused" to spar after the incident for fear the headache would return, according to Mrs Towell, and did not enter a ring again until the fatal bout on September 29.
In further evidence, Ms Ross said Towell had visited the sauna and treadmill after being given an hour to lose almost three pounds before a weigh-in 24 hours ahead of his bout.
The court had earlier heard from Dean Treanor, who was overseeing the weigh-in on behalf of the British Board of Boxing Control, who said it was "against the rules" to lose fluids by using a sauna.
The inquiry is set to continue until the end of November.