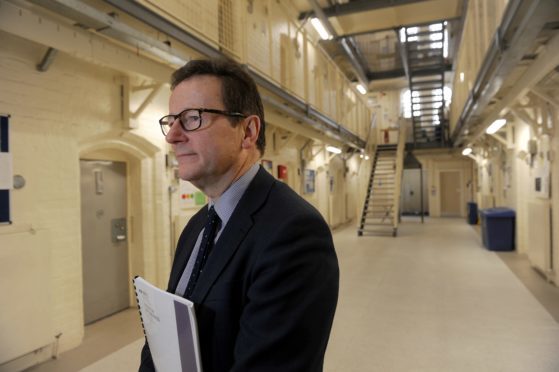 The man behind a damning report into NHS Tayside mental health services has said there needs to be fundamental changes in how they are delivered.
The Independent Inquiry into Mental Health Services in Tayside released its interim report on Tuesday. It highlighted shortcomings such as patients who pose a risk to the public being allowed to discharge themselves and an inability to control the use of illegal drugs on wards.
The report was commissioned following a campaign by family members claiming their loves ones had killed themselves after being turned away by the Carseview Centre in Dundee.
More than 1,300 people have given evidence to the inquiry, including patients, families, carers, organisations and NHS staff.
David Strang, chair of the inquiry, said the health board needs to do more to support patients but said there is hope the situation can improve.
Labelling management as "fragmented", he said communication is one of the key areas that needs to be addressed.
"It's worrying that someone can be referred from a GP but then the patient gets rejected, whether that be for staffing reasons or something else. GPs are finding this frustrating.
"The patients will undoubtedly find this confusing and distressing and if they are told they are on a waiting list, they won't be told how long that is, unlike in other services.
"There needs to be a fundamental change in how mental health services are delivered in NHS Tayside.
"I am hoping the focus on mental health in Tayside will lead to improvements. There is a big scale to this challenge, but the staff on the front line have some positive ideas.
"They feel they are not being listened to or they don't know where to turn with their ideas.
"For example, there are six committees looking at risk assessment but who's actually responsible for it, is not clear. I'm not against having a lot of committees, but it needs to be clear who leads it or it risks being passed around.
"It's important that a comprehensive strategy is put in place, particularly before moving any services from Murray Royal to Carseview. You can't just move the service without having a strategy in place to know what you want to achieve."
Referring to NHS Tayside's lengthy response to the interim report, Mr Strang said he has not yet seen evidence of the improvements, but notes the next stage of the inquiry will be investigating further and discussing with NHS Tayside management how to improve the service.
Recommendations will then be made when the final report is published.
Mr Strang said there are improvement measures that can be taken before that.
He feels removing stigma around mental health, especially the links that sometimes exist between it and substance abuse, should not interfere with treatment.
He added: "If someone has turned to drink or drugs because of their mental health issues, that should not mean that we see them as a lesser patient. It's important that everyone has equal treatment and that stigmas around drug abuse don't prevent that."
NHS Tayside chairman Grant Archibald has promised to take the findings of the report into account and are "taking action" on the points raised.