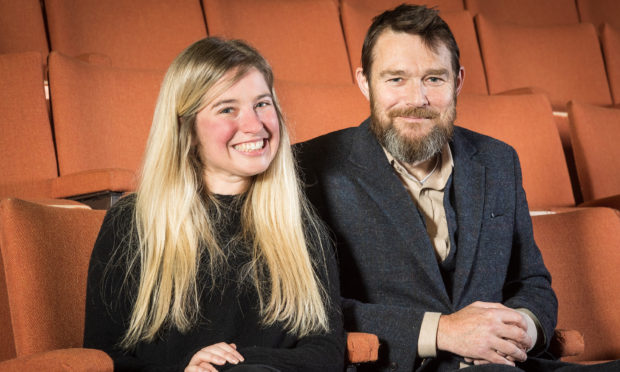 A new play set on the River Tay will premier on BBC Radio 3 this summer after being postponed at Pitlochry Festival Theatre.
Adventures with the Painted People, by David Greig, was originally scheduled as part of the Highland Perthshire theatre's Shades of Tay project to be performed in July but will now be first heard on BBC Art's Culture in Quarantine season next month.
The production tells the love story of a Roman officer who is captured by the Picts and about to be sacrificed, before being rescued by a Pictish woman. Together, the pair flee down river from Rannoch Moor to Dundee.
Edinburgh-based writer Greig said: "Rivers are such evocative, defining features of the Scottish landscape and culture – creating borders and territories, ever-present and ever-changing, transporting people in geography and in memory.
"The Tay, in particular, is a river that means a lot to me, from its watersheds up on Rannoch Moor right down to Dundee, it's a frontier river – I've run along it, swum in it, canoed it, sat by it looking for inspiration.
"Adventures with the Painted People is set on the River Tay in 85AD: it is a story of people meeting in extraordinary times, of borders being crossed, of cultures changing, and of love.
"I hope audiences, when they listen to it, will feel a shiver of connection through our shared landscape and I can't wait for them to dive in."
The play will be directed by Pitlochry Theatre's artistic director Elizabeth Newman who has teamed up with award-winning independent audio producers, Naked Productions.
Ms Newman said: "We are proud to connect with thousands and thousands more people during this challenging time. We want to use this opportunity to reach even more people and make new friends.
"We hope hearing Adventures with the Painted People on BBC Radio 3 will encourage them to return to Pitlochry Festival Theatre or visit us for the first time when we can reopen.
"In these extraordinary times, it is vital that we partner with institutions like the BBC to deliver funny, moving, inspiring and thought-provoking stories that can be accessed by many without ever having to leave the safety of their homes."
The play will premier on BBC Radio 3 on Sunday June 7 at 7.30pm and is rescheduled for Pitlochry's summer season in 2021.