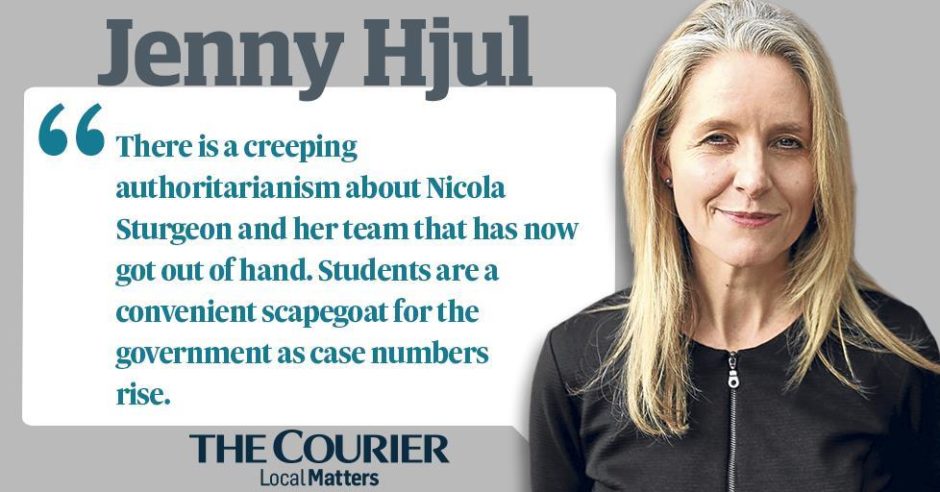 As the parent of a university student my first thought last week when the SNP announced its crackdown on the young was thank heavens my daughter is in London not Scotland.
There at least she can continue to go to her waitressing job and she can visit her friends, albeit not all of them at once.
Students here have no such freedoms, having been ordered by the government, in cahoots with the universities, to stay inside their accommodation or face expulsion from their courses.
Visits to cafés, pubs and restaurants are also prohibited under the new banning order, which leading lawyers say is a breach of their human rights.
Jim Spence, the rector of Dundee University, who has seen at first-hand how freshers have been treated by the government, described the decision to incarcerate the student body as 'Stalinist', 'a move even the old eastern bloc dictators would have baulked at'.
JIM SPENCE: Someone should pay for Stalinist treatment of students by Scotland's government and universities
'The principals of Universities Scotland and the Scottish government went way beyond what is acceptable in a democratic society, by singling out students with a threatening missive which read like a declaration of war on those just starting their studies,' wrote Spence in yesterday's Courier.
The holding of students under what amounts to house arrest brings to my mind the Nationalist Party of apartheid South Africa.
My father was one of South Africa's banned and while the Nationalists who targeted him and his fellow protesters were a different breed to Scotland's Nationalist administration, there is a creeping authoritarianism about Nicola Sturgeon and her team that has now got out of hand.
Students are a convenient scapegoat for the government as case numbers rise, but their behaviour tends to reflect what is going on in other sections of society.
Police over the weekend said they broke up at least 300 house parties but only one in 10 had been linked to students and those breaking the law were in every community and age group.
As people resume their normal lives, the community transmission of the coronavirus will inevitably increase, including among students.
If Sturgeon had put a proper testing system in place, she might have been able to keep this spread under better control.
Her top scientific advisers warned early on that students, in particular, should be tested before the universities returned but this was ignored.
When asked at her press briefing on Monday whether she had taken advice on the issue, she refused to acknowledge her mistake, instead accusing the media of trying to catch her out.
This has become a standard tactic of the first minister – shifting the blame when the going gets tough, because she believes she is above scrutiny.
Attendant scaremongering
Perhaps as ill-judged as imprisoning students is the attendant scaremongering, which has escalated to almost hysterical levels in government circles.
Nicola Steedman, Scotland's deputy chief medical officer, told students last week they were at 'serious risk' of dying from coronavirus despite there being no Covid deaths among people under 30 in Scotland.
Striking fear into the population as a means of enforcing obedience is another hallmark of oppression.
Let us have the real facts and figures. In the whole of the Lothian region last week, just one ICU bed was occupied with a Covid case, according to the NHS overview given to doctors. A bed occupancy graph from March to September has flattened out to almost nothing.
The new daily total of 222 cases on Monday was a lot lower than in recent days, and the number of new infections across the UK saw one of the lowest daily rises of late.
There may be further spikes before the so-called second surge retreats or, as several senior scientists have argued, we will need to live with coronavirus as we live with seasonal flu.
It is time in Scotland for Sturgeon's self-styled state of emergency to end and, with it, her draconian strictures on our lives.
Boris Johnson is being challenged at Westminster by his own backbenchers to restore the democratic process and let MPs have a say in any new lockdown rules.
Sturgeon too is being asked to give parliament more say on major Covid related changes. Following her performance, and that of her ministers and public health officials, over the student debacle, she must surely comply.
As Jim Spence said, in any other line of work she would have paid for her incompetence by now with her job.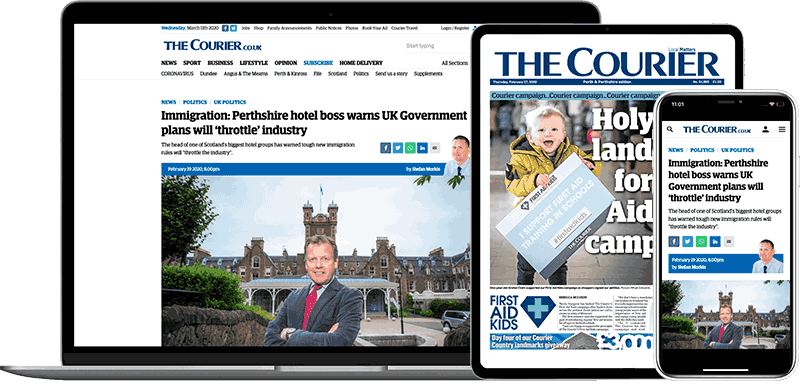 Help support quality local journalism … become a digital subscriber to The Courier
For as little as £5.99 a month you can access all of our content, including Premium articles.
Subscribe