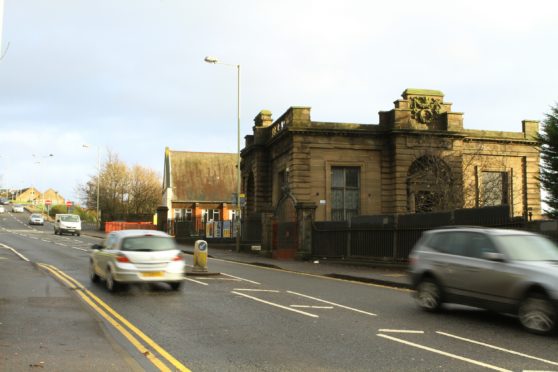 Clubbers have accused the operators of a new nightclub of trading on the name of one of Dundee's most legendary venues.
The Rooms will open in St Roque's Library, better known as The Reading Rooms, on Friday.
It was home to a nightclub called The Reading Rooms which was forced to close earlier this year after police said they feared someone would die due to blatant drug taking on the premises.
Documents released under Freedom of Information legislation revealed police called for the closure of the club after an 18-year-old girl was found unconscious in the toilets after overdosing on the horse tranquilliser ketamine.
The operators of The Reading Rooms, Jim and Grant Grieve, denied all wrongdoing and will open a new venue, called Kings, in the former King's Theatre on Saturday.
They leased the Blackscroft venue, which has The Reading Rooms inscribed above the door, for 17 years and it gained a reputation as one of Scotland's best nightclubs.
But now new operators are planning to re-open it as a venue called The Rooms.
https://www.facebook.com/TheRoomsDundee/posts/104550367694826?__xts__%5B0%5D=68.ARBgoQI4E4wFgXR35mhtSiQtUYyF6l6cskfPWp93DPTF8L8VTbUcfkZHe216hFE6Qn9o1NcG6jPDjUWPz0eTclReFgrCHTQ4Wfl-fI88v1rVBSOf4cqkqItv4O_2nrlyZelDWi7wHzDSQZVckK8gQ1OrtKY7QxiLtowJHSGwCQ2k1tB8qUkxK76A-0nLUQmGnExRb56KCGBMtqk4M3tNXXYOo2SPda3N9d16zNbto58rKnhvCQjY7OIDh4qNM98yAtmUUOhjhgaUyEmTcSF9PpxMNRqIDqxYdIPWuAOxUXwbpvzBFv89GlS6JkL7fpP5XCRim1xHAhzd0jC9iWs&__tn__=-R
A post on Facebook said: "Over the past few months we have been working tirelessly behind the scenes to bring back that special place that all of us are missing.
"The venue formally known 'Reading Rooms' will be reopening as 'The Rooms'.
"What else is new? We've installed a brand new sound system and light show to try and give you the best party possible."
Derek Souter, owner of the building, said he is still owed rent by the club's previous tenants and has had to spend around £50,000 on internal alterations to make the building safe.
And he said all intellectual property associated with the name Reading Rooms has been passed to him as part of as security for unpaid rent.
However, fans of the original venue have criticised the new operators for their choice of name.
One said: "Shocking, riding on the coattails of the most iconic Dundee music venue.
"You'll never be able to 'bring back that special place'… that 'special place' has now relocated to The Kings."
Another person posted: "Not really been working tirelessly when all you've done is badly rip off someone else's hard work."
The Blackscroft building originally opened as St Roque's Library in 1910 and was designed by Dundee city architect James Thomson – the man behind Caird Hall and City Square.
The library was used as a "reading room" and delivery station for the 100,000 books held by the Dundee Central Library at the Albert Memorial Institute but was better known as Blackscroft Library.
It was first used as nightclub in the late 1990s.
Grant and Jim Grieve have been asked to comment.