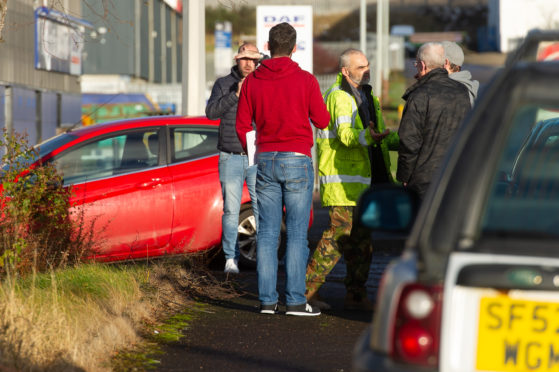 Dundee workers at a collapsed clinical waste firm will hold crunch talks with business minister Jamie Hepburn as pressure grows over an estimated £300,000 in unpaid wages, holiday and notice pay.
Staff at Healthcare Environmental Services (HES) have faced continued uncertainty after the business, which was previously responsible for disposing of clinical waste from every medical facility in Scotland, ceased trading in the wake off a stockpiling scandal.
The firm's near-400 UK workers have not received any money since their November pay and some have reportedly been forced to depend on food banks or sell Christmas presents to free up much-needed cash.
Employees in Dundee have been invited to attend a summit with ministers at Holyrood on Wednesday to discuss the outstanding wages, which the company claims have been held up by its bank HSBC.
The Scottish Government confirmed its attempts to liaise with HSBC to "move the matter along" have been blocked by HES after the company refused to give consent.
Stuart McSorley, 39, who worked for HES for around 18 months, said: "I have been asked to attend a meeting this week at the Scottish Parliament with Jamie Hepburn.
"I have asked two staff members from Dundee to attend with me. Some of the staff from Shotts will be going as well but I'm not sure on the numbers yet because some people have new jobs or interviews and are unable to attend."
The Insolvency Service confirmed on Friday it will pay statutory redundancy to former HES workers following fears they would be left unable to claim while bosses refuse to declare the business insolvent.
Staff were dealt a further blow last week after being told the scheme would not be able to pay out on the estimated £300,000 in salary payments reportedly owed to the company's hundreds of employees.
Workers in Dundee have received the backing of city MSP Shona Robison, who called on HES to "do the right thing and immediately pay out the wages and other entitlements due".
Airdrie and Shotts MSP Alex Neil, whose constituency covers the company's North Lanarkshire headquarters, vowed to fight on alongside local MP Neil Gray for workers to receive unpaid wages.
He said: "Neil and I have made it clear that waiting six months to get to an Employment Tribunal isn't good enough.
"The workers must get paid urgently, especially given there is more than enough money in the bank to cover all the wages due."
A Scottish Government spokesman said: "The minister for business, fair work and skills has asked to meet urgently with representatives of the Help Us Healthcare Group and will do so on Wednesday.
"He will hear directly from former employees of HES the concerns they have to help determine what further support the Scottish Government can provide."
HES could not be reached for comment.